Summer is looking Bright.
We want you to know we will be open so you can plan ahead.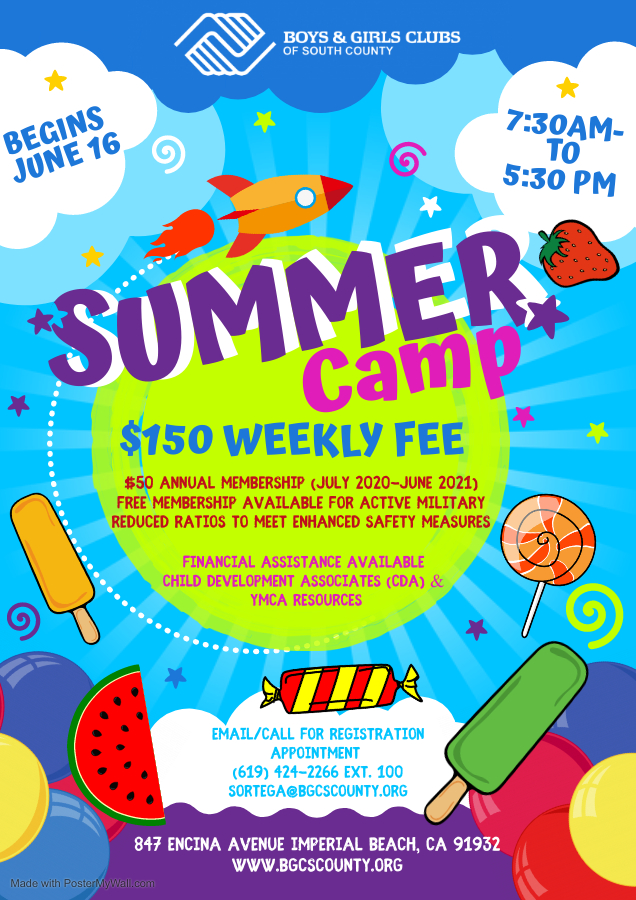 Registration:
Due to current restrictions, a limited number of spaces are available. To register your child(ren) for Camp, you must make an appointment, MUST bring a completed application packet, and payment to your appointment. Please see the links below to download and print all forms.
To make an appointment please contact Stephanie Ortega, Program Director at (619) 424-2266 Ext. 100, or email sortega@bgcscounty.org.
Registration Forms:
Fees & Payments:
Fees are $150 a week per child, plus a $50 annual membership fee. Membership is valid from July 2020- June 2021.
Military Vouchers are available for Active Military.
Payments must be made by Wednesday at 4:30 pm for the following week. First week's payment plus the membership fee are due at the time of your registration appointment.
Financial Assistance Available: Child Development Associates (CDA) (Español) or (English)(619-427-4411 EXT. 1400) and/or YMCA Resources (1-800-481-2151).