Extended Learning Program Contact Information
Administrative Office Location
847 Encina Ave. Imperial Beach, CA 91932
(619)424-2266 Ext. 106
Extended Learning Program Important Information
The Extended Learning Program is provided through ASES grant funding and a partnership with the Boys and Girls Club of Imperial Beach. Enrichment and connections for students beyond the regular school day are the primary goals of the Extended Learning Program.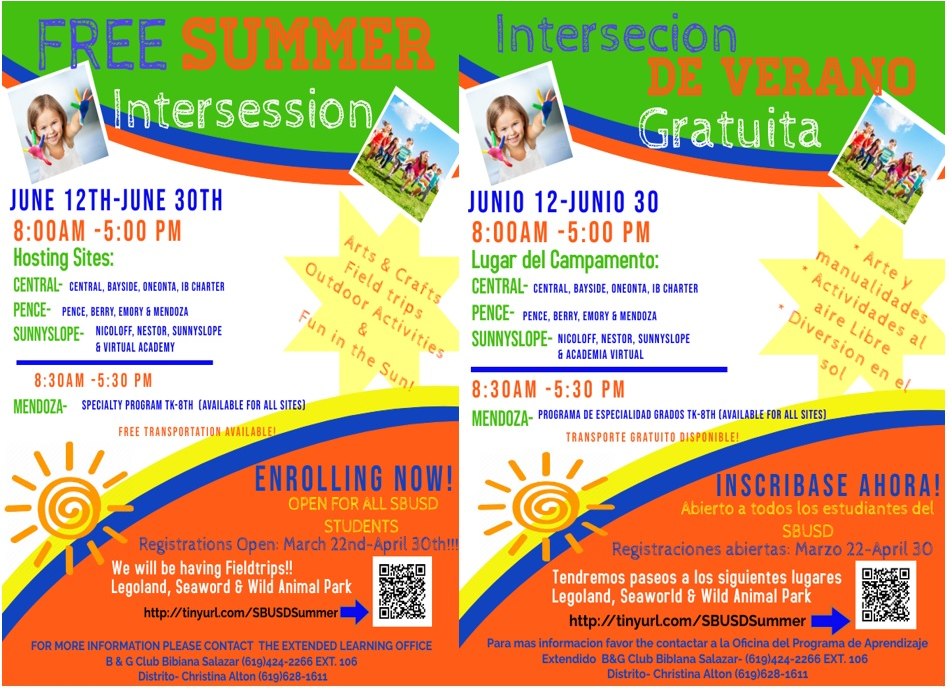 Parents/Guardians,
It's that time of the year again!
2023-24 Extended Learning Online Registrations are opening up March 1st!
If you would like help filling out the interest form online, we will be having in person tech support March 1st-2nd at the Boys & Girls Club of Imperial Beach; 847 Encina Ave. Imperial Beach CA 91932
REMINDER:
· We are a Monday through Friday full service Before and After School Program. You may apply to any program you are interested in.
· Every student must apply. Even if your student is already enrolled or is currently on the waiting list, all students must reapply.
· Please do NOT submit your interest form before March 1st. Interest forms submitted before March 1st will be counted towards this school year.
____________________________________________________
Padres/Tutores Legales,
¡Ha llegado el tiempo de registraciones!
¡Las inscripciones en línea del Programa de Aprendizaje Extendido del año escolar 2023-24 estaran abiertas apartir del 1 de Marzo del 2023!
Si desea ayuda para completar el formulario de interés en línea, tendremos apoyo técnico en persona del 1 al 2 de Marzo en el Boys & Girls Club de Imperial Beach; 847 Encina Ave. Imperial Beach CA 91932 de 8:00am-4:30pm.
RECORDATORIO:
· Somos un programa de servicio completo antes y después de la escuela de lunes a viernes. Puede aplicar a cualquier programa que le interese.
· Todo estudiante debe aplicar. Incluso si su estudiante ya está inscrito o está actualmente en la lista de espera. Todos los estudiantes deben volver a presentar una solicitud.
· NO envíe su formulario de interés antes del 1 de marzo. Los formularios de interés presentados antes del 1 de marzo se contarán para este año escolar.
PLEASE DO NOT OPEN THE LINK UNTIL 3/1/2023 AFTER 12:00AM

Interest Form Links:

SBUSD Extended Learning

| | |
| --- | --- |
| Site | Link |
| Bayside STEAM Academy | |
| Berry Elementary | |
| Central Elementary | |
| Emory Elementary | |
| Imperial Beach Charter School | |
| Teofilo Mendoza | |
| Nestor Language Academy | |
| George Nicoloff | |
| Oneonta Elementary | |
| Howard Pence | |
| Sunnyslope Elementary | |
Before and After School Program Interest Form Links - No deadline as this is an on-going process. As applications are accepted space is determined and students are offered a spot in the Program, or placed on a waiting list. Please note that while staffing has been limited, we are working to hire new employees as quickly as possible to accommodate all students interested in attending Before and After School Programs.
Thank you for your interest in The Extended Learning Program. In order to add your child to the waiting list, you will need to fill out an Interest Form. All Interest Forms can be found at the links below. After an interest form is submitted, and if there is space, an application link from City Span will be sent via email. There are no paper applications, as enrollment is in collaboration with the San Diego County Office of Education. Once your application is approved, you will be contacted by Bibiana Salazar via email or a phone call to give you information regarding your child's first day of program attendance.


Click here for detailed information.
SBUSD School Calendar 2022-2023