Extended Learning Program Contact Information
Administrative Office Location
847 Encina Ave. Imperial Beach, CA 91932
(619)424-2266 Ext. 106
The Extended Learning Program is provided through ASES grant funding and a partnership with the Boys and Girls Club of Imperial Beach. Enrichment and connections for students beyond the regular school day are the primary goals of the Extended Learning Program.
Before and After School Program Interest Form Links - No deadline as this is an on-going process. As applications are accepted space is determined and students are offered a spot in the Program, or placed on a waiting list. Please note that while staffing has been limited, we are working to hire new employees as quickly as possible to accommodate all students interested in attending Before and After School Programs.
Thank you for your interest in The Extended Learning Program. In order to add your child to the waiting list, you will need to fill out an Interest Form. All Interest Forms can be found at the links below. After an interest form is submitted, and if there is space, an application link from City Span will be sent via email. There are no paper applications, as enrollment is in collaboration with the San Diego County Office of Education. Once your application is approved, you will be contacted Bibiana Salazar via email or a phone call to give you information regarding your child's first day of program attendance

.
EXTENDED LEARNING PROGRAM ENROLLMENT INTEREST FORM LINK
| | |
| --- | --- |
| School Site | Link |
| Bayside STEAM Academy | |
| Godfrey G. Berry | |
| Central Elementary | |
| Emory Elementary | |
| Imperial Beach Elementary | |
| Teofilo Mendoza | |
| Nestor Language Academy Charter | |
| George Nicoloff | |
| Oneonta Elementary | |
| Howard Pence | |
| Sunnyslope Elementary | |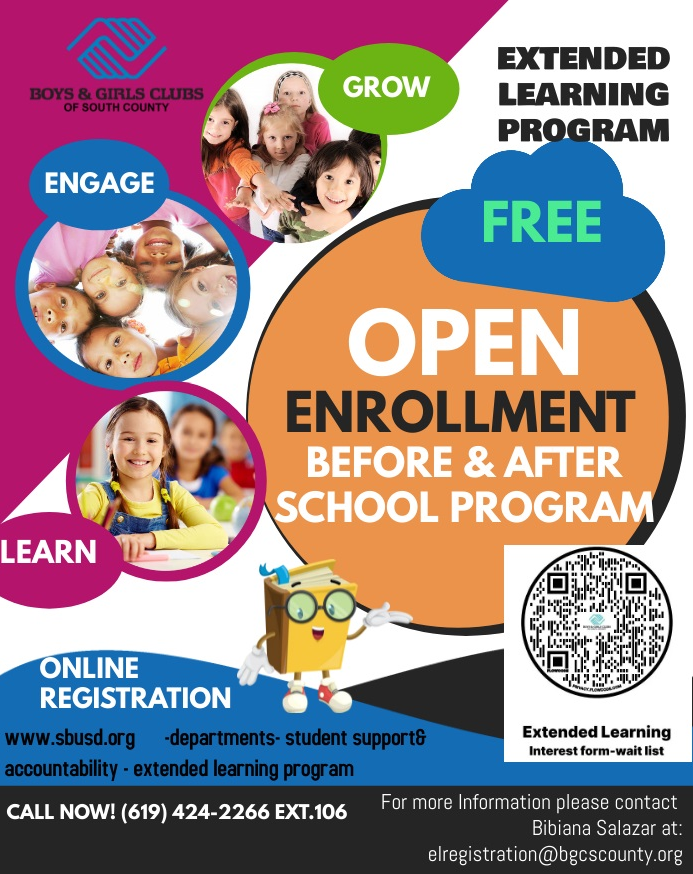 Click here for detailed information.
SBUSD School Calendar 2022-2023