Boys & Girls Clubs
After School Program


Boys & Girls Clubs Clubs of South County families:
The Clubhouse program will begin July 2022, at the Imperial Beach-Odermatt Clubhouse, located at 847 Encina Avenue, Imperial Beach, CA 91932. Hours will be from 2:00 pm- 6:00 pm, Monday, Tuesday, Thursday, and Friday, and 1:00 pm - 6:00 pm on Wednesday. *Please note program details are subject to change.
Program Model will include:
Homework Assistance
BGCA National Programs
Internet Access
Arts & Crafts
DIY S.T.E.M.
Sports, Fitness & Recreation
Culinary Arts
Educational Learning
Our number one priority has been and will continue to be safe and we want to ensure you are doing everything possible to create a safe and healthy experience for your child(ren). We understand these times are stressful for everyone and we want to provide support to you and your family and return to as much 'normalcy' as possible. Please email or call to schedule a registration appointment. We look forward to serving you this school year.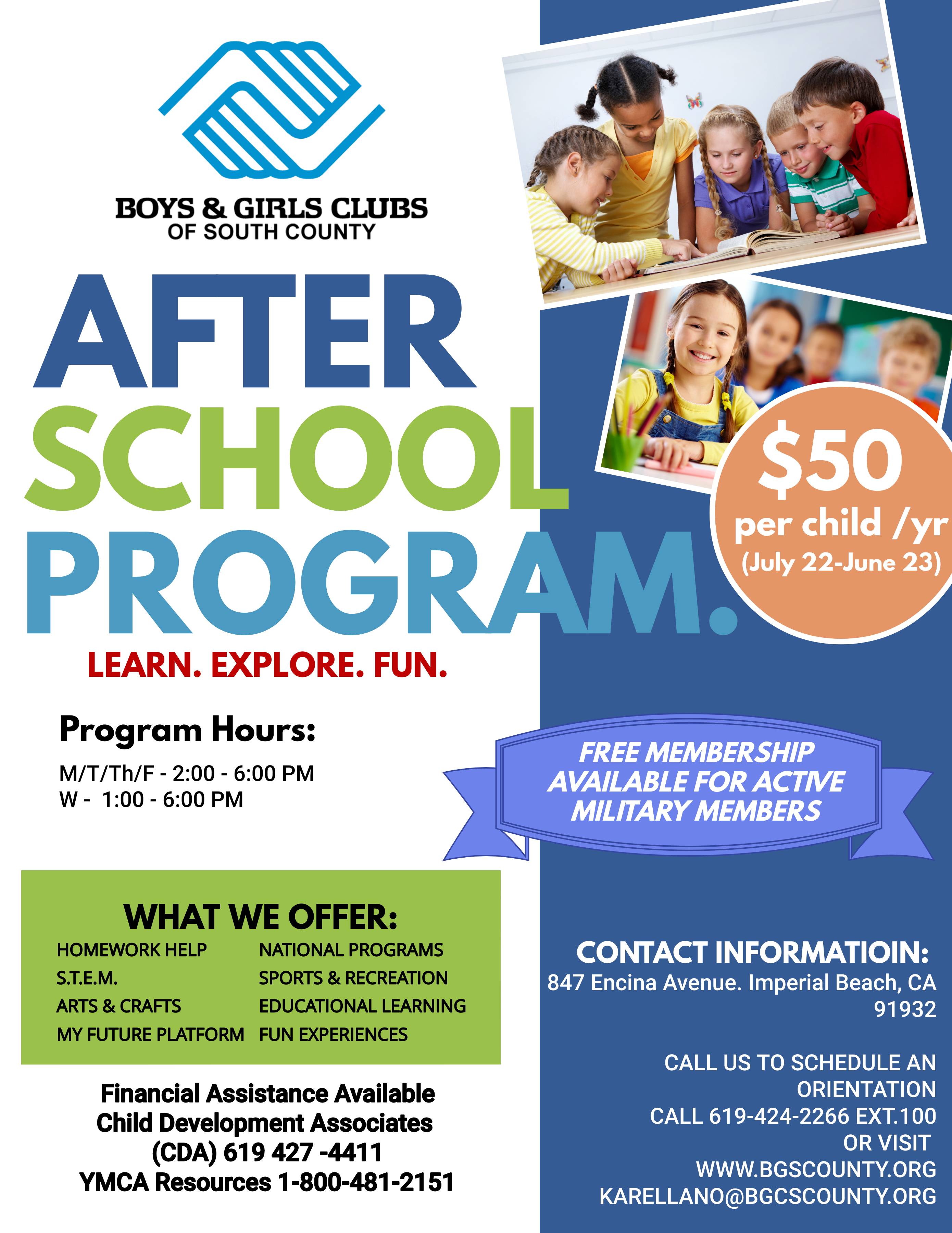 Registration:
To register your child(ren) for the afterschool program you MUST make an appointment, MUST bring a completed application packet, and payment to your appointment. Please see the links below to download and print all forms.
To make an appointment please contact the front desk (619) 424-2266 Ext. 100, or email [email protected].
***If your child(ren) has been sent home from school due to exposure to COVID-19 in their classroom/cohort or any other illness please notify us upon registration and/or the arrival of our program. Child(ren) who have been sent home from school due to illness will not be allowed entrance to our program until cleared by a physician or quarantine is completed.
Registration Forms:
Fees & Payments:
Fees are $50 annual membership fee. Membership is valid from July 2022- June 2023.
Military Vouchers are available for Active Military.
Membership fees are due at the time of your registration appointment.
Financial Assistance Available: Child Development Associates (CDA) (Español) or (English)(619-427-4411 EXT. 1400) and/or YMCA Resources (1-800-481-2151).